Dolphins in the wild in Cyprus waters - the dolphins are back, hopefully for good.

We had reports of bad conditions during this closure and went to see for ourselves.
The news is the dolphins are no more. We did write an article which was on dolphinsincyprus.com (since closed) Read more below.
If you don't like the idea off dolphins in captivity or are distressed by horrible acts against wonderful creatures, we suggest you don't read below the line, but, an update in 2008 which is good news is that the wild dolphins are back. We have seen a video of encounters off the Cyprus coastline and are in the happy position (after any years of sadness) to offer you the chance to see a dolphin where it should be, in it's natural environment ... in the sea. There was a report in May 2008 of a school of 50 f them. We do hope that is true and not just wishful thinking, bt if you want a chance to see the dolphins, we no longer have to say to those who enquire ' no chance' as we have done for the past 7 years. We can arrange a trip for you in the Protaras, Ayia Napa area of the island, just let us know how many you will be, when you are coming, where you will be staying and the ages of any youngsters under 17 here
---
The Dolphin Park in Cyprus is currently closed - hopefully for good.

We have re-organized this dolphin page to reflect the true state of affairs for dolphins in Cyprus. For those who have visited before will have seen that the general info on Dolphins was the main theme of this site, and that the Marine park in Ayia Napa (who commissioned this site) Were advertising their product. Dolphins and sea lions.

Captive Dolphin Scandal / Wild Dolphin Scandal

We have been guilty of neglect also. In late 1997 we were to do this site, and advertise a park which kept dolphins....something we didn't feel too good about, however the moral issues in the advertising business leave us little choice for personal preference, as otherwise we would not advertise handbags, fertilizer, supermarkets or a myriad of products that cause suffering and death to many many creatures daily. The question of cuteness should not be a factor - i.e. An intelligent dolphin or dog versus a supposedly stupid chicken or rabbit. We abuse them all, but are more likely to fire the public's imagination and intervention with a cute creature.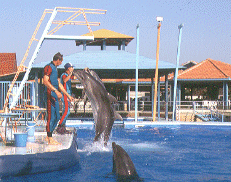 We are very busy, and so did not actively pursue the owner of the site for the material on dolphins that had been promised. We took the pictures from the local advertising agency they used, put a half page advert on Window on Cyprus and prepared a basic description of dolphins and dolphin activities for this site. After about 8 months, we got round to reviewing the situation and decided to go and take our own photos.

The photographer took her young children and some visiting guests to the Marine park, but was late arriving for the main show. She did however see the Sea Lions do their performance, and she reported that it was entertaining and that the sea lions seemed to enjoy it.

Next the dolphins were to swim with people, so she photographed some of these 'rounds', but here noticed that the advertised 'encounters with dolphins' were nothing more than a fairground ride, with no real interaction between the people who were paying ?30 a swim. When she asked if the guests could swim with them to enable her to get some more interactive photo's she was heartened when the supervisor said "No because the dolphins have their quota and will get tired" She became disillusioned though when she saw the man take another lump of money from a newcomer to do so.

Due to this report, we didn't run the new photo's, but tried to contact the owner.....and then again due to pressure of work, put it on the back shelf for later. This was a big mistake of ours, with hindsight, we should have started a fuss, but didn't. The next time we spoke to anyone at the park, we were told that there were only sea lion shows for a while - which we put on the site. We were told that the dolphins were having a rest.

As it turned out, this was because they were dead, something we found out through a third party who wrote us a letter asking why the Sea lion was left to die in the park on his own. We sent someone up there, and indeed there was a solitary sea lion behind a locked gate, with a single Asian man left to care for it. He told us that the vetinary department had been informed and would arrive at 7pm that evening.

Further investigation revealed that the owners ( or rather the now pretend owners, as everyone seemed to be denying involvement) had applied to the government for a license to import 4 new dolphins. The dolphins it turned out were owned by the Russian Academy of Science (RAS), the business that procured ANMP's four now-dead dolphins -- along with two sea lions and who originally claimed they were captive-bred, but later "admitted ... the dolphins were, in fact, caught from the Black Sea.

In granting Ayia Napa Marine Park (ANMP) a dolphin-import permit on April 21, the Cabinet violated the letter of two UN treaties -- the CITES treaty of 1973 and the 1982 Berne Convention -- and the spirit of European Union Council Regulation No.338/97. All protect endangered species, including dolphins. They did grant the license though, but after the stink that was kicked up, ( Brigitte Bardot wrote to President Glafcos Clerides urging him not to allow the Ayia Napa Marine Park (ANMP) to import more dolphins ) revoked the license (The Council's April 21 meeting's minutes show it declared it was "necessary" to give ANMP owner Kikis Constantinou permission to bring in four more dolphins "for reasons of paying off invested capital" in the dolphinarium.)

A phone call to Kikis Constantinou from the Cyprus Weekly to Mr.Constantinou, who is listed in the 1998 publication, The Dolphin Traders , as one of the Ayia Napa Marine Park's owners, yesterday denied having any connection with the place or with the sea lion in captivity there. "I'm not involved with the dolphinarium. I'm the owner of the land," he said, adding that the Marine Park's owner is "someone from Nicosia, someone from Georgia..

The bottom line - we hope- is that dolphins or marine mammals will not be allowed into Cyprus as Captives.

Sign our Fishing Petition here


Dolphins have inspired man through the ages. We find their images on ancient pottery, mosaics, incorporated into jewellery and in various writings from as far back as the written word has been found.

They are the stuff that legend is made of. Maybe the fact that they are marine mammals sets them apart from the other creatures of the sea, or maybe it is their close affinity with man and their tendency to seek him out. Anyone who has been on a long boat trip will have noticed them playing in his bow wave at some point..

Being mammals, they give birth to babies which are fully formed, the calf is ready to swim with its mother almost immediately. It is suckled, which means that it drinks its mothers milk. It has lungs and breathes through a blowhole in its head. It survives on milk , and then learns how to eat small fish such as mackerel, mullet, octopus and squid.

Mothers nurture their children and never let them leave her side for
at least a year.
These pages were commissioned by the Ayia Napa Marine park, however they never paid for them and now have closed down.
Dolphins died and Sea lions suffered.
We are not closing this portion of the site - but will sponsor it as a guide. The story as it was reported is above. We would appreciate input or suggestions on how to utilise this page better ?
A protest by local fisherman in Cyprus is highlighting the true problem as we see it.
There are not many fish left. They seem to blame it on the dolphins !
The fishermen were demonstrating against the government's refusal to grant them adequate compensation for damage caused their nets by dolphins, and in anger at the "indiscriminate" way fishing licences were being handed out. They also want more space at harbours and said the president had been aware of their demands "for at least three years."

"We are seen as the worst people in Cyprus," chipped in Tassos Adamou, a fisherman from Zygi: "We work 20 or 22 hours a day just to make a living, while everybody else's jobs are getting better."

The fishermen said they were not calling for the dolphins -- a protected species -- to be killed, but for the government to find ways to stop dolphins and turtles from approaching the nets.

Nicos Stylianou from Paphos echoed his colleagues' complaints: "Fishermen have a lot of problems, especially with the dolphins. We're getting poorer and poorer. There are less fish and the dolphins find it easier just to take the ones we have caught in our nets."

He said there had always been dolphins around the island, but that in the past there had been enough fish both to feed the dolphins and turtles, and to fill the fishermen's catch.

The government had suggested the fishermen use a system of bells on their nets to keep the dolphins away, but that this had proved unsuccessful: "Dolphins are the cleverest creatures. They were afraid of the bells in the beginning but then just started to ignore them."

Marinos Kallogirou from Limassol said a sonar system that emitted sounds "the dolphins find annoying" could provide an answer, but that the systems were only sold through the Agriculture Ministry and were very expensive.

"We want to use small amounts of dynamite to keep the dolphins away, but because it is an illegal explosive, the police won't let us. We asked them to accompany us when we use it, but they don't want to," Stylianou said, adding that the fishermen themselves could also be hurt if they did not use the explosive properly.

"The government could help us a lot if they wanted to," Stylianou and Kallogirou agreed.The next step would be to close off the harbours: "This will affect rich people too, so maybe they will take notice then," Stylianou said.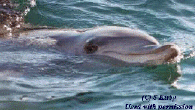 Well we have been calling for the fishing around Cyprus to be more closely monitored, and hopefully stopped altogether within at least 1 mile of the shore. Please see why and sign our Fishing Petition here