Bungee Jump in Cyprus with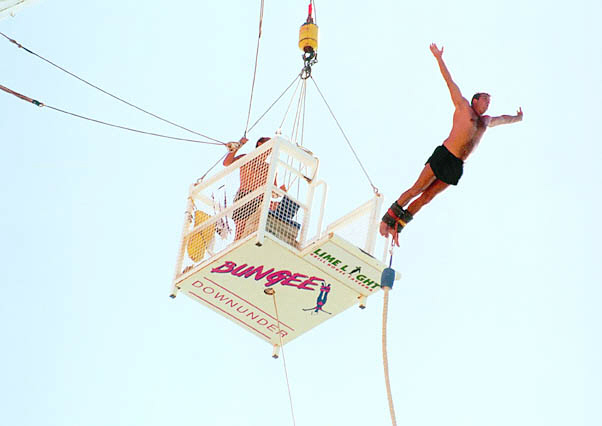 History
Centuries ago the Vanuatuan natives on the Island of Pentecost paved the way for modern day jumping by diving with vines bound at the ankles from towering Bamboo Structures as proof of their manhood. In 1979 four eccentric members of Oxford University Dangerous Sports Club jumped from the Golden Gate Bridge in San Fransisco on latex cords emulating the Islanders feats. This inspired three New Zealanders, A J Hackett, Henry Van Asch and Chris Siggelkow to spend some years furthering the science of Bungee Jumping using latex rubber, developing systems and safety calculations that Bungee Downunder and A J Hackett use today. In June 1987 A J made his famous jump from the Eiffel Tower and modern day Bungee Jumping had arrived. Bungee Downunder opened on the Gold Coast, Australia in 1990 and in 1992 opened Cyprus' first professionally operated bungee facility. Over the last 11 years more than 1,000,000 people aged from 12-82 at Bungee Downunder sites in Europe, The Middle East, The Far East and Australasia have enjoyed the thrill, secure in the knowledge that they are jumping with a professional company which has maintained a 100% safety record

Also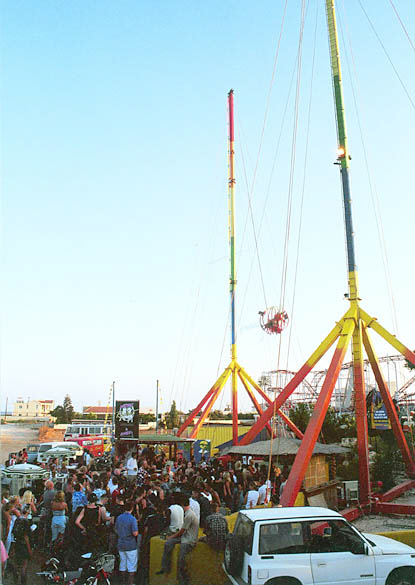 The Bungee Rocket is another adrenalin pumping ride that gets the heart racing, where one or two riders are harnessed into rally seats then shoulder strapped in Roller Coaster style, in a aerodynamically designed ball. Two winch motors stretch out the heavy bungee cords to the top of the 100ft towers. You are then fired 150ft into the air in 1.5 secs, rotating & bouncing for the next three minutes. An animal of a ride !
Bungee Down under celebrated their 10th anniversary in Cyprus. Come and jump with the professionals at Nissi Beach, Ayia Napa
Open 7 days a week from May 1st through to October
OPEN DAILY FROM 3pm-1am JUST BEHIND McDONALDS
Night jump specials, Bar & BBQ
To view enlarged versions of the pictures above, click on the thumbnails. To see more bungee pictures click here
Safety Standards

Bungee Down Under have carried out over 1 million safe jumps worldwide and conforms to the Australian & New Zealand standards which adheres to a rigorous code of practice for Bungee Jumping.
GO JUMP BUNGEE DOWNUNDER
If you want more information or wish to make a booking for yourself or a group,
you can call :- 24-665405
or fax :- 24-627489

or E-mail us on this button.

To see more bungee pictures click here
Vote for us in the top Cyprus Sites and see the other Cyprus and Cypriot sites.
[ Home ] [ Adventure Treks ] [ Agrotourism ] [ Akamas ] [ Alternatives ] [ Animals ] [ Aliens in Cyprus ] [ Art ] [ Awards ] [ Ayia Napa ] [ Banking ] [ Books ] [ Bungee ] [ Business Guide ] [ Car Hire ] [ Chat ] [ Classifieds ] [ Contacts ] [ Cruises ] [ Views ] [ Disabled ] [ Diving ] [ Education ] [ Feedback ] [ Ferry ] [ Fishing ] [ Equipment Hire ] [ Flying ] [ Food ] [ General info ] [ Pink peace ] [ Getting Here ] [ Gift shop ] [ Greetings ] [ History ] [ Holiday ] [ Horoscope ] [ Horse Racing ] [ Hotels ] [ Intro ] [ Kids stuff ] [ Larnaca ] [ Leather ] [ Lefkara ] [ Like it/ hate it ] [ Limassol ] [ links ] [ Location ] [ Mailing & Privacy ] [ Maps ] [ Meanderings ] [ Newsletter ] [ Nicosia ] [ Paphos ] [ Penfriends ] [ Politics ] [ Property ] [ Protaras ] [ Riding ] [ Safari Tours ] [ Sailing / Boats ] [ Search ] [ Shopping ] [ Site Map ] [ Skiing ] [ Sport ] [ Travel ] [ Troodos ] [ Wines ] [ Villas ] [ Weather ] [ Weddings ] [ Your Pics ] [ Zenon/philosopher ]
---