Cabins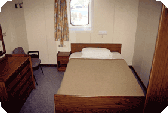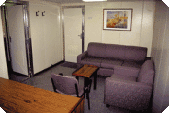 For the last few years it has been very difficult to plan coming to Cyprus with a car or taking the ferry if you do not like flying. The regular ferry service which used to run between Athens (Piraeus) and Limassol was stopped just before the Olympic games and never re started. There was an intermittent ferry in the summer for a couple of years, but that still was not good enough, so we have made an arrangement with Grimaldi Freighter Cruises and although the ships do stop in Athens, both ways, one is not allowed to embark or disembark there! (More silly legislation) You can however get on or off in Salerno in Italy or go all the way to Southampton in England (UK).
It is not as expensive as you may think and a car below 5 metres long costs 350 - 450 Euros and then you need to add whichever category of cabin suits your budget best. These begin at 357 Euros per person all found in a cabin with full facilities. There is a ship every week of the year and although there is no onboard entertainment (we recommend you take some good books) there is a small gym onboard that you can use long with the crew. Meals are also taken with the crew. Children under 12 pay half the adult fare and dogs are not allowed.

To see the Itinerary and prices, and to book the ferries online with our secure server, start your ferry journey with Grimaldi freighter Cruises here.
Dining Facilities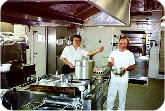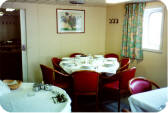 See the ferry ro and from Cyprus in more detail

The ferry from Southampton in the UK, Italy and a few other places now sails directly to Limassol in Cyprus, it also goes to Alexandria and Ashod.
Grimaldi current sailing schedules