Cyprus Based Activities

Transport is provided in a Land Rover Defender. All equipment is provided along with safety gear (Cycle helmets/buoyancy aids etc). All activity days are supervised by trained Guides. Group numbers are small (2-10) to ensure customers receive the best care during the day, to minimize risk, and to minimize impact on both the environment and the people around us.

Mountain Biking:
Using the Akamas National Park, Troodos Mountain Range or the Pafos Forest, there are a range of guided rides to suit all abilities and experience. Full and half day rides on remote tracks explore Cypriot villages, coastal paths and woodland. All the well-maintained bikes are provided with cycle helmets which are obligatory.
Rock Climbing:
Just a short drive from Paphos, are some unique and outstanding rock out crops. At 650 meters, not only are the views of the surrounding coast breath taking, but this almost unknown location reveals climbing routes for every ability from absolute novice to extreme grade climbing.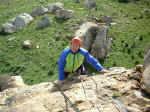 click on picture to enlarge
Walking / Trekking:
Utilizing many of the Cyprus Tourism Organisation's nature trails, there are a selection of walks in the Akamas National Park and Troodos area. The guides ?walk and talk? with customers offering a wealth of knowledge about the Cypriot ecology and landscape. There are walks for all abilities, from a gentle half day amble through part of the spectacular Avakas Gorge and Lara Peninsular, to full day treks on Mount Olympus and The Caledonia Falls.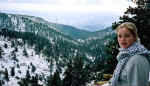 click on picture to enlarge
Snorkelling:
With the sea caves only a short drive away we have access to some fantastic rocky coves located in calm sheltered bays, perfect for snorkelling. There are amazing rock formations and a whole host of sea life. Often snorkelling is combined with kayaking to further enhance the day.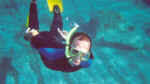 click on picture to enlarge
Kayaking
:
Using the very latest 'sit-on' type kayaks from Perception, there is access to some of the stunning coastlines where you will enjoy kayaking almost year round. The calm waters around Pafos provide almost unlimited opportunity to explore a unique area. Sea caves, deserted coves, rock bridges and stacks provide excitement and beauty in a safe setting. And, from time to time, conditions permitting, kayak surfing is an option for the more adventurous !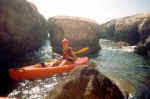 click on picture to enlarge
Skiing:
Mount Olympus is snow-covered, normally from late December to mid March, with a ski shelter, warm cafe, four ski lifts and numerous runs, it is a novel and fun way to spend a day or two of your holiday! The skiing is perfect for beginners and experienced skiers alike with professional instruction on hand for those that need it. All equipment and lift passes are provided.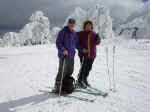 click on picture to enlarge
Multi-Activity Days:
Bespoke multi-activity days are also arranged in the Akamas National Park, combining downhill mountain biking, trekking, kayaking and snorkelling, to create an exhilarating day of fun and activity. These days are perfect for small groups and families.
Lunch Arrangements:
Casual and flexible arrangements are made for lunch. Heavy eating / drinking does not mix well with activity so Packed or Picnic lunches are provided. There is a lunch stop on all full day schedules.