Kolossi Castle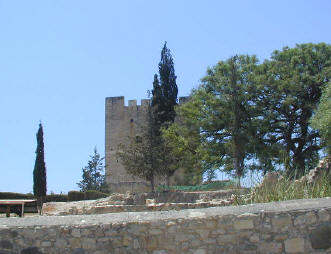 A very fine example of military architecture, originally constructed in the 13th century and subsequently rebuilt in its present form in the middle of the 15th century.

After the fall of Acre in 1291, it served the guard of the Knights of St. John of Jerusalem whilst in Cyprus..
In the 14th century it came for a time under the domain of the Knights Templar.
Click the pictures to enlarge
The castle and grounds evoke a peaceful feeling, even though the building itself is pretty austere. The stonework is in fine condition considering the structures age, children in particular seem to love exploring the staircases and battlements as well as the grounds, in which if you concentrate you can be whisked back hundreds of years and imagine life in and around this splendid building.
To find Kolossi Castle

14 km west of Limassol on the road to Paphos
1st June - 30th September 07.30-19.30
1st October - 31st May 07.30-17.00
Nearby are the ruins of a sugar mill dating to the 14th century and other interesting structures.
.
[ Up ] [ Events and Music ] [ Limassol Entertainment ] [ Eat out in Limassol ] [ Youth Hostels ] [ Kolossi Castle ]