He built a huge, huge castle in the middle of the beach ,
which was so big ,with turrets an' all, to the sky it nearly reached,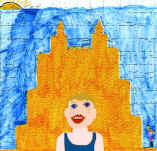 He walked the Troodos mountains right up to the very top
Then ran down the other side so fast ,He nearly couldn't stop!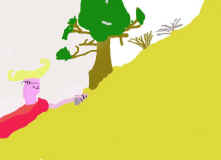 He went to the Water World and swam and slid about
And dived off of the highest board so hard, all the water did come out.
On his bike he rode to the forest, so he could climb some tree's
And knocked a very funny shaped thing , out of which came lot's of bees,
He felt a little frightened 'cause he thought that they might sting,
but instead they put on a flying show and honey they did bring.
He went to ride the horses early in the morning along the sands,
He galloped and cantered and jumped over waves and shouted
"Look no hands!!"
He did one day go out to sea on a little sailing boat,
and found an old , old bottle in which there was a note.
The note was from a pirate who wore a funny hat,
and then he noticed that along with the note there was indeed a map,
The map said "buried treasure" and there was a big red cross,
So he thought he'd go and find the jewels which someone must have lost
He sailed and sailed for a long long time until he was where he should be,
And then he put on his flippers and mask and dived to the bottom of the sea.
As he was diving down and down he passed fish of many colours ,
some had stripes and some had spots and as for all the others.
They were red and they were blue they were black and they were pink,
And they had to keep their tails swishing about or else they'd surely sink.
When he finally reached the bottom an Octopus he did meet ,
He thought it was very funny that he should have so many feet ,
He asked the kindly Octopus if he knew of a treasure trove ,
The Octopus nodded and said "Jump on my back" and towards the treasure they drove.
On the way they saw lot's of the Octopuses friends ,
who all waved and said hello
Even a fierce looking shark swimming by was his friend and not his foe.
They came upon a funny looking chest, that was wooden and very old ,
And because the lid was slightly ajar you could glimpse some shimmering gold.
But it wasn't just gold that he could see as he tried to peer inside , for looking out from the rickety chest was lots of pairs of eyes.
'Who's in there ?' he asked , as he stood back from all the stares,
"Oh that's young Hermit and his kids , they all live in there. "
And suddenly out popped a crab who offered his claw to shake and said in a very loud voice "Is it the treasure you've come to take?
You see there's a bit of a problem this chest is really our home ,
we've lived here since I can recall and I'm sorry I don't mean to moan ,
but if you take the treasure you'll have to take the chest and then where are we supposed to live and what about the rest?"
At this he pointed around him to lots of coloured plants who waved their fingers t'wards the boy and he could see at just one glance,
That all their roots were coming from that old and wooden chest and now if felt all confused and wanted to do what's best,
He really wanted the treasure so he'd be rich as it was worth lots of money , but he didn't want to take their home cause that'd make him feel funny.
Maybe he could just take a little and put it in the pocket of his shorts ,
Yes ,that's probably the best idea and he smiled at this thought.
He told the rest of his plan and they all nodded and said "Yes" and so he looked to see what he could carry from that old wooden chest.
But he realised upon looking how big all the treasure was and that he'd never be able to swim with any of it in his shorts.
And then he thought of his adventure coming down to the bottom of the sea and decided that he it really wasn't the treasure that he wanted or would need.
He would rather just remember all the fun that he had had , And doing that would mean that he wouldn't feel so bad.
So turning to all his new found friends he said that he'd changed his mind and didn't want the treasure anymore ,as the excitement was in the find.
He thanked them for the time he'd had and said he'd never forget, the day he came to the bottom of the sea it really was the best.
Having said goodbye he readied himself for his swim back to his sailing boat, and hoped more than anything else that it was still afloat.
Indeed it was and so he climbed back upon it's decks and thought for his next adventure he might look for sunken wrecks.
As he flew back to England after his holiday in the sun ,he thought about the good time he'd had and what he'd tell his Mum.
He could tell her of the riding , the climbing and all he'd done , But of his adventure in the Ocean who would say a word, not one.