Konatzi tis Kritou in Kritou Tera

This is an interesting destination if you are interested in the way people live. This village was built in two halves, on each side of the river, the one side Greek Cypriots and the other Turkish Cypriots. In the troubles, the Turkish Cypriot village was left empty, but is now being renovated in it's traditional style as well as the Greek part (in which Konatzi lies)
The stone paved courtyard is a wonderful place to spend time and relax.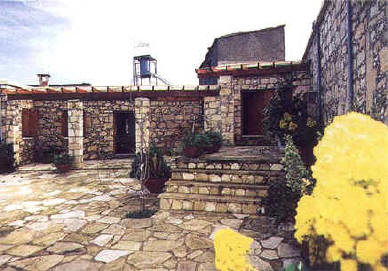 The Kontazi was built over 200 years ago and commands a delightful view from the hill,
overlooking the Chrysochou Valley.
There are 3 studio apartments (sleeps up to 4) and a one bedroom apartment (sleeps 6) with its own fireplace.

Prices
Studio for 2 pax per day
One Bedroom for 4 pax per day
Extra beds each per day
43 euro
55 euro
5 euro

Children under 12 stay free
It is near to Paphos, Polis, Latchi and the Akamas. Golf is also not too far.
A great base for exploring the area.
And to see more info please look at Cyprus-villas
To make a reservation please contact us here

The Agrotourism scheme in Cyprus promotes traditional accommodation, old houses and village villas.
All images and content in A window on Cyprus are protected by Copyright. 1997 - 2014
Reproduction is prohibited without written permission.