Building Plots overlooking Oroklini and Larnaca Bay

There are six building plots in all, they are in a commanding position and have the best of both worlds, being in a village environment and yet at the same time having clear land all around them, which may not be built upon. There is a golf course being built at the top of the hill in the near future.

Take a look at the plan below to see what we mean.
Just click on it and it will enlarge itself.

These 6 Large plots cover the whole hilltop at the side of Mount Prophet Ellias outside the village of Oroklini. They are surrounded by Govt Forest land and haliland. No individual can build on the surrounding land.
The North side is forested up to Mount Prophet Elias while to the South ,East and West there are views of fields and the whole of Larnaca Bay The beach is 2.2 km distant. and it is only 5 mins drive to the main Nicosia/Limassol highway and 5 km from Larnaca itself. A very convenient commuting position.

Plot Sizes and prices are as follows

650 sq.m. = SOLD

690 sq.m. = Cú72,000

584 sq.m. = Cú57,000

785 sq.m. = C82,000

640 sq.m. = SOLD

585 sq.m. = Cú62,000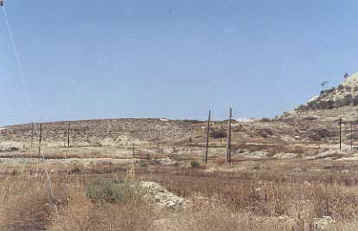 This is a view of where the plots are. Notice the higher plataux. There.