Woolworth

Woolworth had a presence island wide in Cyprus, not just Larnaca, we were featuring this store because it was an asset to the town.
If you are English , and like a joint of pork with the crackling on, you can order it in the butchery department at the Woolworth Zenon. In fact you can find almost anything you could want in this new addition to the Woolworth chain . Easy parking, lifts and escalators and the Woolworth quality pledge means that you can shop comfortably and with confidence, so enjoy.

They were on the by-pass road about half way between the port and the fire station.

They took all major credit cards, Visa, Diners club, Eurocard , Master card and the Woolworth card , so if you've just arrived and forgot your bathing costume and sun block you don't need to go to the bank first.

Museum piece. :)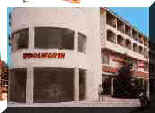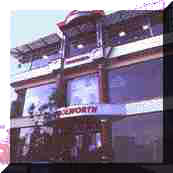 Welcome to
WOOLWORTH
The most popular department store in Cyprus
OPEN IN LARNACA
On the By-Pass
WOOLWORTH are pleased to present our
Woolworth Zenon Department Store.
As well as a splendid Supermarket section with its own Butchery , bakery and fresh vegetable department we offer the following :
Household - Electrical appliances - Books and Stationary - CDs - Records - Cassettes - Toys - Services - Women's fashions - Menswear - Children's wear - Shoes - Fashion accessories - Make up Souvenirs - Travel accessories - Suitcases -cafeteria - Launderette - Optician - Sportswear -

Opening Hours
!! OOPS !! - Closed Until Further Notice -
Location
Zenon .General Timagia Avenue - Larnaca. Telephone (24) 631111
You will find WOOLWORTH stores at the following locations in Cyprus:
Nicosia
Central.
Arch. Makarios 111 Avenue.
Tel: (22) 447801
Limassol

Apollon. Petrou Tsirou Str.
Tel : (25) 335353

Limassol

Olympia. 28th October Str.
Tel :(25) 311133


Paphos

Kinyras. Ledra Street.
Kato Paphos.
Tel :(26) 247122
To go to the WOOLWORTH home page.