Over 160 conditions can be treated using HealthPoint and 'Simply a Safer Way', the most clearly illustrated, easiest-to-understand and useful guide to acupuncture treatments.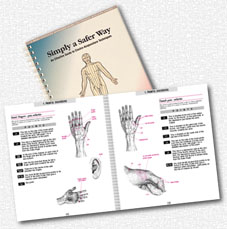 Also available in Greek

This beautifully illustrated manual - written with Dr Julian Kenyon, M.D., developer of the 'HealthPoint' concept & founder of the British Medical Acupuncture Society - is a clearly organised guide to the effective use of acupressure, acupuncture or electro-acupoint stimulation for a wide range of conditions - everything ranging from low back pain to headaches and migraine, arthritis to sports injuries, allergies to carpal tunnel syndrome.
The safe, simple techniques discussed are designed for home-use - without the need for extensive training - and each of more than 160 conditions includes clear illustrations detailing the exact position of the associated treatment points.


[ Up ]HealthPoint
Biochemical
Treatments
Order Form
Horse and dog
What can HealthPoint treat
Common ailments