The kitchen is built in with a Halogen Hob, Electric Oven and Extractor Hood included.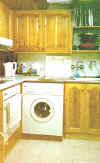 Click to enlarge
One telephone line and one separate fax line are installed.
Main living room with it's original arch has had an added balcony area as shown on the photograph below. Limited access to the Master Bedroom is through the Bathroom.
The fireplace was renewed and is capable of wood burning in the winter months