3 bedrooms,2 kitchens, 2 living rooms, in fact 2 flats.
As you can see below, this interesting house has great views, and is in a quiet position.
The garden is well looked after and is about 300sq.m in all, planted with a variety of fruit and ornamental trees and plants, including apricot,fig,pomegranate,date and lemon.
The house itself offers great potential, either as a home for 2 branches of the same family or offering self contained accommodation for staff or offices.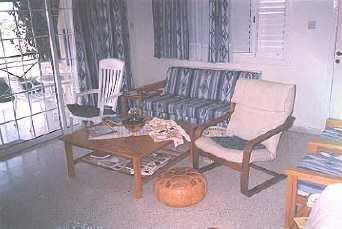 The room sizes are as follows:

Kitchen and day room : 7m x 4m. Tiled, with cupboards shelves and breakfast bar

Annex bedroom : 3.40m x 3.40m with fitted cupboards.

Bathroom : 2.20m x 2.10m . Marble tiles, large mirror and cupboards.
Living /Dining room : 6.3m x 5.10m. Marble tiled

Main kitchen with small TV room. : 8m x 3.50m

Master bedroom : 5.50m x 4m. Fitted carpets en suite to a bathroom /toilet 3m x 1.6m with a marble bench wash basin and marble tiling.

Bedroom : 3.20m x 2.80m

Extra guest toilet : 3.10m x 1.20m . Tiled and fitted
The plot size is about 580 sq, meters altogether. There are 2 main entrance doors facing East. On the Southwest side is a double garage and store room, in total about 30sq.m.
The main stairway is marble, and the house is fully centrally heated.
The price is Cú99,000 SOLD