This villa is in a very advantageous position, and a golf course is being built on top of Mount Prophet Elias only 3km away.
Below is a Description of the Villa Remaining
GROUND FLOOR
On the ground floor, with Jardinieres on either side, the hall separates the living room on the left from the sitting room on the right. At your request, in the middle of the hall we can create a semicircular bar – facing the entrance - which will be served from the adjoining kitchen. The kitchen and two dining rooms are one step higher than the living rooms in order to break the space . A small gate serves as a partition between the formal dining room and formal sitting room.
The ground floor is designed to unify into a large space where guests can be entertained with ease and style. The kitchen is placed in the middle of the ground floor so as to serve the two dining rooms and sitting rooms effortlessly. The two living rooms and formal dining room entrance and stairs have marble floors. The kitchen, dining room and WC floors are all with ceramic tiles.
FIRST FLOOR
On the first floor are 4 large bedrooms with spacious wardrobes and two bathrooms. The floor of the 4 bedrooms is covered with fitted carpets.
ALTERATION OF THE FIRST FLOOR
The first floor can be converted from 4 bedrooms into 3 bedrooms. This creates a bigger master bedroom and a small laundry room with a veranda for hanging clothes.
LOCATION
Situated between Oroklini Limni (Lake) and the crystal clear sea (Larnaca Bay). In the background is the mountain of Prophet Elias.
The complex consists of only 8 spacious luxury 3 or 4 bedroom houses – all with large gardens, sea view and lake view.
The project is close to the entrance road to the motorway connecting Ayia Napa, Nicosia and Limassol to Larnaca.
CONSTRUCTION DETAILS
Flooring:Bedrooms – Fitted Carpets
2 Sitting rooms; formal dining room; Entrance Hall and Stairs – Marble
Kitchen; Dining Room/Breakfast room ; WC – Ceramic floor tiles
Verandas – Terrazzo tiles
WINDOWS AND DOORS
Entrance and internal doors – Timber – flash painted
Balcony doors and windows – Aluminium and tinted glass
External: Aluminium shuttering (1st floor only)
WARDROBES
Bedrooms internally built in melamine and externally MDF flash painted
Kitchens: Benches and cabinets – DITTO and top bench cover made in Cyprus
Hot water supply by an electric heater
TV and Telephone installation as per drawings.
Size of plot – 800 square metres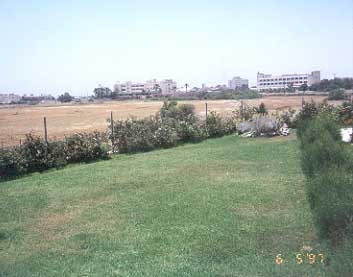 Size of house – 170 square metres plus 40 square metres verandas and balconies